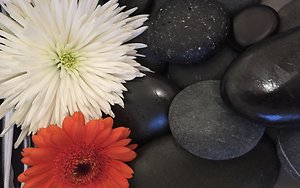 Enhance the Benefits of Reflexology using these beautiful subtle energy Hot Stones......." So Relaxing"
Introduction to Hot Stone Therapy

The ancient healing art of stone therapy using various massage techniques & warm stones relaxes the body at its deepest level & is effective in creating harmony & balance. The subtle energies of stones introduced into a treatment calm the senses, relax muscle tension & promotes a meditative state.

The heat from the stones penetrates to a deeper level & may reach 7-8 cm's into the superficial layer of muscle, bringing about physiological changes as well as influencing the body's internal flow (Chi), therefore bringing balance to both body & mind.

Reflexology & massage of the legs is a perfect way to nurture our bodies & ourselves. Incorporating stones into a treatment can enhance the power of this contact.

Types of Stones used in Therapy

The stones most commonly used in Hot Stone Reflexology are known as Basalt, a product of volcanic /sedimentary action. Since it has been washed along seashores & riverbeds for thousands of years, it can be a very smooth and natural tumbled stone. Basalt stones retain heat for long periods of time due to its density and smoothness .

Benefits & Effects of Hot Stone Reflexology On The Body

* Increase Circulation & Lymphatic drainage
* Increases elimination of waste products therefore organs are cleansed
* Promotes the release of Tension in connective tissue
* Reduces Muscle Tension
* Promotes a deep Relaxation
* De-Stresses
(The warmth from the stones slows down the heart rate, relaxes inner organs, increases blood flow, boosts immune system, lymphatic system and slows down respiration)



PLEASE ENSURE YOU WEAR LOOSE CLOTHING DURING THE TREATMENT TO ALLOW ME TO WORK THE LEG AND CALF AREA.